Script Summary: Enhancement suite for Userstyles.org! Cross-browser Compatible!
Version: 1.4.5
License: CC by-nc-sa http://creativecommons.org/licenses/by-nc-sa/3.0/
DONATE
ABOUT
The Userstyles.org site by default, is quite un-informative when you're browsing for styles, despite all the info being there, it's not visible to the user.
I wrote this script to take all that info and present it in a nice table with extra information, for a better view at a glance.
---
Mozilla Firefox
Google Chrome
Opera
SCREENSHOTS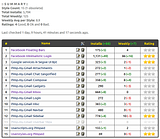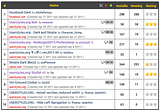 FEATURES
Styles displayed in table view instead of list view.
Table shows extra info such as Total Installs, Weekly Installs and Avg Rating.
Sortable table.
Cross-browser compatible (update notification too).
Stats-Keeper feature.
Inspired from US.o script author helper script by Mindeye. Displays changes in style stats if any, since last visit.
Metadata fetcher feature.
Fetches metadata of all styles, such as Author, Site, Date info, Screenshots and Ratings
Easily confirgurable preferences (via preferences dialog, thx to Developer Tools scrips by Cletus)
STATS KEEPER
Shows you the increase/decrease in style statistics from your last visit. (Userstyles.org updates this information only once a day, unlike userscripts.org where stats get updated instantly)
If you would like to follow the statistics of other users, you can do so by enabling the 'Stats Keeper for all' setting in the preferences dialog.
META-DATA FETCHER
By default, the script adds an icon which will fetch the metadata & add it to the table if you click it.
The metadata it pulls are, Author, affected site, Create & Last Updated date & if it has a preview image.
However, if you would like to automate the task, you can configure it in the preferences dialog by setting the Auto-fetch option to true.
INSTALLATION
Firefox &
Chrome:
Just click the install button & you're ready!
---
Opera:
Opera users might first need to enable User Javascript & designate a folder to store their userscripts.(i use C:\Program Files\Opera\userjs\)
You can find all the help you need regarding this, over
here
.
If you're using USO on a secure connection (ie via https) don't forget to read the "User Javascript on secure pages" section.
Once you've done that, right click on the install button & save the script to you're designated folder.
CHANGELOG

1.4.5 - 08 Aug 2011

Fix for recent changes in the site (again!).
Added a 'Updated Date' Column to the table.
Also added sorting for the Date column.
Updated styling for the table & summary block.
Changed a few icons.
---
1.4.2 - 18 July 2011
Fix for recent changes in the site.
---
1.4.1 - 19 June 2011
Fixed a bug with app & global styles.
---
1.4 - 19 June 2011
Cross-browser compatible again.
Implemented cross-browser update mechanism (in Phasma's ScriptUpdater).
Metadata fetcher: Will now display a favicon besides the style url.
Metadata fetcher: Holding shift while clicking global fetch all button will skip obsolete styles
---
1.3.1 - 10 May 2011
Fixed for recent changes in the site.
---
1.3 - 06 May 2011
Added New Feature: Screenshot preview on hover. (ala fb bigger pictures on hover) If you now hover over the screenshots indicator, the real screenshots will display on the top right/left corner of the screen.
Fixed intermittent bug with sorting.
---
1.2 - 25 Apr 2011
Updated to be compatible with the recent changes to userstyles.org.
Added a preferences dialog. (Uses Developer Tools script by Cletus)
Added global icons to fetch metadata for all styles.
Added discussions icon to metadata, which displays number & type of ratings in tooltip.
Changed screenshots icon to reflect type of screenshots (single/beforeafter).
Author info is now a link to their respective profile.
Updated styling for table.
---
1.1 - 02 Feb 2011
Added throbber to indicate fetching metadata.
Added option to enable Stats-Keeper for all users. Disabled by default.
Changed summary info on userpage, is more detailed now & accounts for obsolete styles.
Fixed '+' Sign in Negative numbers.
---
1.0 - 31 Jan 2011
Fixed bug in handling numbers above 999.
Added new feature: Metadata Fetcher.
Added Script Updater by PhasmaExMachina.
Major internal code changes.
---
0.7 - 07 Aug 2010
Updated CSS for table.

Changed rating bg image.
Changed row hover color.
---
0.6 - 22 Jul 2010
Stats summary will now show on all user profile pages.
Numbers will have thousands separator where possible.
Cleaned up the code a bit.
---
0.5 - 18 Jul 2010
New feature: Stats keeper for style authors =)
Changed name to Userstyles.org Enhancer
---
0.4 - 13 Jul 2010
Replaced text with image in Rating column.
---
0.3.1 - 12 Jul 2010
Updated Sort algorithm.
Updated update mechanism.
Updated styling for table.
---
0.3 - 12 Jul 2010
Added update notification.
Table is now sortable.
---
0.1 - 3 Jul 2010