Script Summary: Gives the option of changing the facebook colour scheme to anything you want using a colour selector.

Did this script help you? Please donate, but don't feel forced to!
Instructions
This script is simple and easy to use. To change the colours in facebook, use the following procedure;
Ensure you are using the Firefox browser.
Ensure that you have the Greasemonkey add-on installed (this requires restarting your browser).
When you have Firefox and Greasemonkey, click the install button at the top right of this page.
Click to confirm that you wish to install the script, and it will be installed.
Now, when viewing any page on Facebook simply go to 'Tools', 'Greasemonkey', 'Userscript Commands...' and then 'Customise facebook colours...'. See the image below for help with this. (Alternatively the same menu can be shown when right-clicking on the monkey on the bottom right).
Select the colours you'd like facebook to be, click "Set!", and you're done!
The initial default colours are set to facebook's default. Any problems or suggestions are welcome in the script discussions.
NB. you need to be using the Firefox web browser with the Greasemonkey extension installed to use this script.
Screenshot
Below is a screenshot of where I have picked a red and black theme, but you can pick any colours you wish.
Customise colours by selecting the menu shown below (whilst you're on a Facebook page);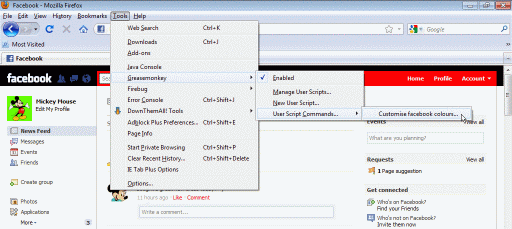 And pick colours using the box that pops up;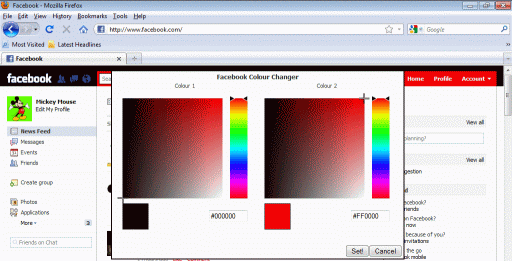 Then your Facebook will appear for you to have the selected colours whenever you browse on the computer you have set this on;
Changelog
26-May-2007 - Initial release.
27-May-2007 - Minor presentational changes.
28-May-2007 - Improved transparency on top logo images; now works better with light colours.
9-November-2007 - Minor bugs ironed out. Full functionality restored.
10-November-2007 - Minor tweaking of CSS.
27-January-2008 - More tweaking of CSS.
11-January-2009 - Fixed for new Facebook.
14-January-2009 - Tweaking of CSS, thanks to itsamutiny for the feedback.
5-February-2009 - Fixed some more missed style. Thanks to alala for pointing this out.
12-December-2010 - Fixed for Facebook changes.