Script Summary: -- EXTINCT -- I have discontinued work on this script as Gmail comes loaded with emoticons by default (in standard-view mode). One more reason why we all love Gmail.
I am leaving the script on the server for other developers to borrow from, if need be.
........
........
I will leave the following information (below) about how you can insert any image (from the internet) into the body of your message, as an inline-image. This little trick is what made this script previously possible.
........
========== First Method ============
The easiest way to add a picture (that is hosted on a server) to your message is to DRAG AND DROP them just like you do with your files on your desktop.
Be careful with this method, because if you drop the emoticon outside the compose box, the page will change. So drop with care.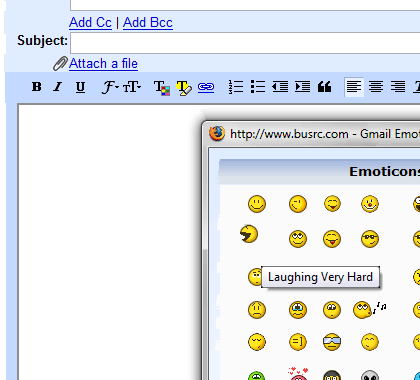 ........
========== Second Method ============
1) Make sure that you are viewing the picture on an HTML page. This is essential for Step-2.
2) Drag your mouse cursor over the image to highlight it (as you would highlight/select text).
3) Right-click & select COPY (not "Copy Image" & not "Copy Image Location"!!)
4) Go back to your Gmail's message body and Paste.