Script Summary: YouTube Me Again! automatically converts YouTube and Vimeo links into real embedded videos. It allows videos to hide, to rescale, and to change aspect ratio. This script works on NeoGAF and What.
Information

YouTube Me Again! transforms plain YouTube and Vimeo URLs into embedded videos.
It firsts converts the links into thumbnails and gets information such as title, time, and description.
Once clicked, those thumbnails disappear and your video is ready to play.
YTMA also detects when videos are no longer available.

Script Updates

Scriptish should automatically inform users of new updates.
To allow update notifications in general, please allow dropboxusercontent.com (Dropbox) to run scripts! (Whitelist it, NotScript users.)
You may need to delete previous versions of this script before or after updating.

Compatibility

Firefox 3.6+ Opera* 10-12 Chrome** 9+ Safari 5 IE9***

If you do not want to install the user script or would like to run the script on any site, use the this option on any of these browsers, including mobile editions.

*Opera 15 does not support user scripts.

**Chrome/Chromium users: You'll have to install the script manually. Download it to your desktop, by right clicking on the Install button and selecting Save. Afterward, open your Extensions Tab, and drag and drop the script onto it. I'll create a native extension soon, I think.

***IE9 doesn't support user scripts, so you must use the bookmarklet instead.
If you experience any doubling of thumbnails, please go to your Extensions/User scripts settings. You've most likely installed multiple copies of the script. Please uninstall the older version.
Screenshots & Videos
| | |
| --- | --- |
| Watch YTMA! 1.0 in action. | YTMA! 2.0 Infografic |
| | |
| YTMA! 3.0 | YTMA! 3.0's settings panel. |
| | |
Notes
Users of NoScript or extensions like it must whitelist youtube.com, youtube-nocookie.com, vimeo.com, and vimeocdn.com to properly allow this script to work. Titles will not load if these sites are not whitelisted!
This also includes the site on which the script is running, such as neogaf.com. The script will not work otherwise!
Additionally, dropbox.com should also be whitelisted because it is required for updates. (This is not required for Firefox users.)
Fixed start times
Change Log
Version 4.1
New batch loader for descriptions. Simultaneously loads descriptions from different sites at once.
Caches descriptions with localStorage, reducing the number of calls to YouTube.
New improved JSONP callback.
Fix for Chrome 29.
Remove dependency of UnsafeWindow.
Adds a portrait setting (for videos unfortunately shot that way :P).
Version 4.0
New description option: Load descriptions manually.
Increased support with IE9
Vimeo tags now use iFrames exclusively
Re-wrote/worked several methods and functions.
Version 3.1
querySelector is now used instead of documnet.links
Version 3.0
New style to match YouTube's dark player
Slightly modified thumbnail and description layout
New settings panel, to allow users to set their defaults
The script now throttles calls to YT when receiving video information, as to not flood the server and become blocked.
Compatible with IE9 -- Bookmarklet only
Version 2.0
Vimeo is now supported! Watch Vimeo streams like you would YouTube's.
Chrome, Opera, and Safari now, too, have titles, times, and descriptions for videos.
If you see a loading bar and "Loading . . ." for too long, please read the notes.
WebKit browsers (Chrome/Safari) no longer have the fullscreen bug.
The script has the ability to check for updates. Please read the notes above, too.
Version 1.8.5
New (Version 3) YouTube Player
Slightly altered sizes
New appearance for the toggle buttons
Toggle buttons have been rearranged
Firefox fetches the video's time and title
Version 1.8
Fixed the image swapping
Firefox users will now see the video's title and time next to the preview.
Version 1.7
New thumbnail style somewhat reflects the new YouTube model.
HD/HQ format is automatically played.
Added Full-screen button.
Added support for start times. If a link has "#t=" the player will start at that given time.
Added "animated" thumbnails when mouse hovers the link.
Version 1.6 never released publicly.
Version 1.5
Thumbnail preview of video, instead of the red link text.
Version 1.0
New code, a more object oriented model
Removed embed tag
Ability to change size and aspect ratio on command (click)
Should work with Opera and other browsers
"Hide" mode, for when you quickly need to hide the video without closing it, or if you just want to listen to a song without taking much space on the screen.
This script is a replacement to the previous versions of "YouTube Me!"** Unlike the others, however, this script is intended to be written in an object oriented way, though it is a bit messy. Thanks for the 850+ installs for YouTube Me 1 and 2.
As always, enjoy the script, and that's that.
Version 1.0 Model: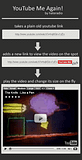 ---
**Since I stopped working on it for a while, I never did a third version of it, which another script writer did make. I got a few things from his script that I used in this one, mainly just the regex.