Script Summary: This script replaces StumbleUpon tag clouds with ordered lists.
Version: 2.5.2
License: This software is licensed under the CC-GNU GPL <http://creativecommons.org/licenses/GPL/2.0/>
Before



After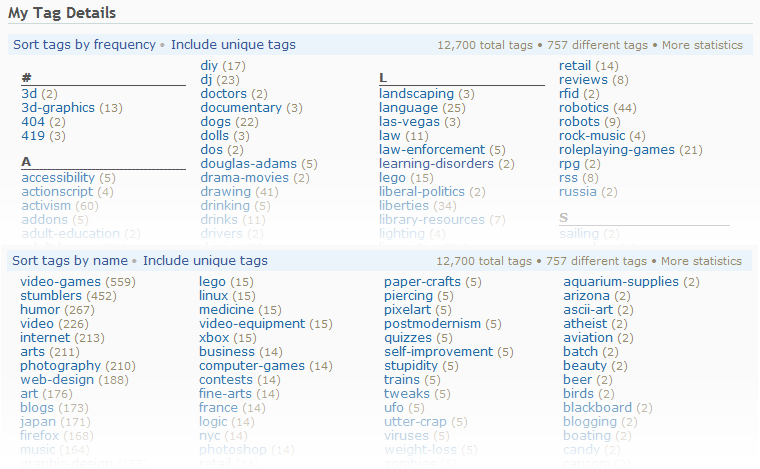 New features in 2.5!

Tag details shown in sidebar.
Tag details popup appearance improved.
Option to show original tag cloud added.
Option to show small tag cloud containing the 150 most-used tags.
Improved speed when changing views.
Added a warning when viewing a page with over 5000 tags.
Made longest/shortest tags in the details into links.
Opera users: This script works in Opera if you have installed version 1.1.1 of Emulate Greasemonkey functions*. Manual updating is disabled in Opera, although the automatic update checking should still work. Opera users will also be missing the "More details" link. This information is also displayed in the sidebar.
*Using the "Emulate Greasemonkey functions" script in Opera may reveal personal information in the form of cookies. If you are unsure of what information a Greasemonkey script is storing, please do not install it in Opera. No personal information is stored by this script.
Version 2.5.2 - Fixed a bug which caused tag links to be broken.
Version 2.5.1 - Added Opera support. See notes above.
Version 2.5 - Major update. See notes above for details.
Version 2.1 - Updated to work with the latest interface. Renamed to fit new naming scheme.
Version 2.0 - Added support for the new beta interface. The classic interface is no longer supported. Auto-update code has also been added.