Script Summary: Removes most of the HTML markup from Yahoo Pipe run output so that it can be cut-and-pasted into WordPress blogs
I'm a very big fan of Yahoo Pipes. It's an amazing service that lets you take information from websites (using RSS, XML, JSON) and then do all kinds of filtering and manipulation with it. Even though it is all done with a slick graphical user interface, it is not for the faint of heart — it really is a tool for programmers more than the average person, although once a pipe is created it is simple for other people to use it. For example, this is how you can create a blog digest post using a Yahoo Pipe I've created for you.
Yahoo Pipes can create automated lists that you can cut-and-paste into blog posts. My only real complaint is with the HTML markup they create. It doesn't look good when you cut-and-paste it into a WordPress blog. This is where Yahoo Pipe Cleaner comes in. It is a Greasemonkey script for Firefox that fixes the Yahoo Pipe output so that it looks nicer when you cut-and-paste it into a WordPress blog.
removes any H1, H2, H3, H4, H5, H6 headers
dofollows the links (removes rel=nofollow)
replaces paragraphs with list elements
removes all class/id CSS selectors
Yahoo Pipe Output Before
Yahoo Pipe Output After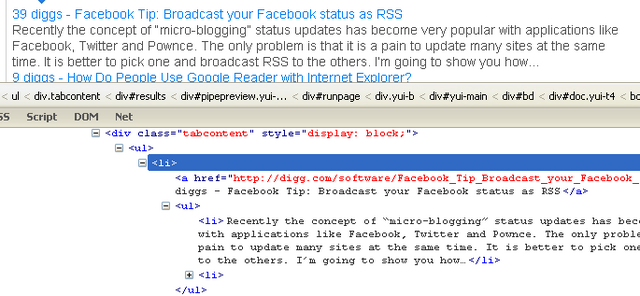 You can get frequent updates about all of my new software, tools or blog themes by subscribing to IDT Labs by RSS or by email. Or you could just subscribe to my main blog, Internet Duct Tape.