Script Summary: This script is no longer available.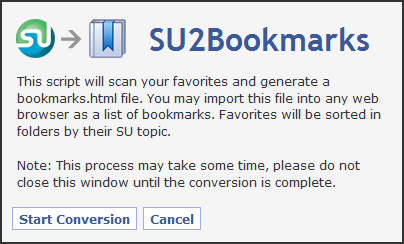 This script is no longer available.
This userscript converts your StumbleUpon favorites to a bookmarks.html file. You may import this file into any web browser as a list of bookmarks. Favorites will be sorted in folders by topic.
To start using this script, click the "Export your favorites as HTML" link on the sidebar, when on your SU Favorites page. If you do not have a sidebar, you are not yet using the new interface. It will eventually become standard, or you can test it out by visiting this page.
Notes: This script is capable of causing a heavy load on the SU servers, especially if you have many favorites. Please do not run the script more often than necessary. If you have any problems with the script or would just like to give me feedback, contact me at my SU page.